www.woodfordhouse.com | Telephone: 01984 641621 | email: anna@woodfordhouse.com
Dalemain World's Original Marmalade Awards
The following article appeared on the front page of the 'West Somerset Free Press' on Friday 28th March 2014:
"When it comes to marmalade, Anna takes some beating..."
Bed & Breakfast owner Anna Thomas has been impressing guests with her home-made marmalade for the past five years. But now the preserves that have tickled the tastebuds of Woodford House, near Monksilver, have won wider acclaim from some of the industry's top experts. Anna, who runs the business with her partner Michael Ralph, has won two of the prestigious Dalemain World's Original Marmalade Awards and Festival in Cumbria. She picked up a double gold for her special edition Kentucky bourbon marmalade and a gold for her Seville orange medium cut, also scooping the overall winner's title in the hotels and B&B category.
It is the second time Anna had entered the event after Michael sent off a jar of her standard marmalade to the competition last year."It was very much against my will but, surprisingly, it won a bronze award," she said. "I was worried that I wouldn't even get a bronze this year but I was completely astounded when I was told the results -I couldn't believe it". Anna travelled to Cumbria to receive her awards at the festival, where judges tasted more than 2,000 jars of marmalade. Beer, honey, chocolate, yellow mustard seed and even seaweed featured in some of the entries at the event, which is now in its ninth year.
The ingredients in Anna's double gold winner included a Kentucky bourbon whisky appropriately named 'Woodford Reserve'. "A friend bought us a bottle as a present because of the name association ," said Anna. "I decided to try it in the marmalade and it's absolutely lovely - and the judges thought so too." Anna only started making marmalade in earnest when she and Michael took over the B&B. "I do love marmalade and I love making it but it is very time consuming. "I do it all by hand and cut the peel when it is raw - I've got it down to a fine art. But I make quite a lot because so many guests ask if they can buy a jar. I'm absolutely delighted to have won these awards - it's lovely when guests say how much they like my marmalade but to know that its been recognised beyond that is wonderful." Anna intends to take a year off from the competition to give her time to experiment with some new flavours but it is likely to be back for a future contest.
"When it comes to marmalade, Anna takes some beating..."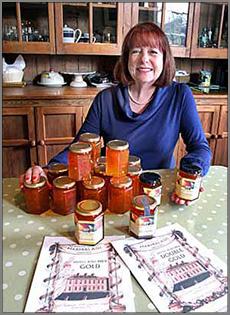 Woodford House, Woodford, Williton, Somerset TA4 4HR | © Anna Thomas 2009-2019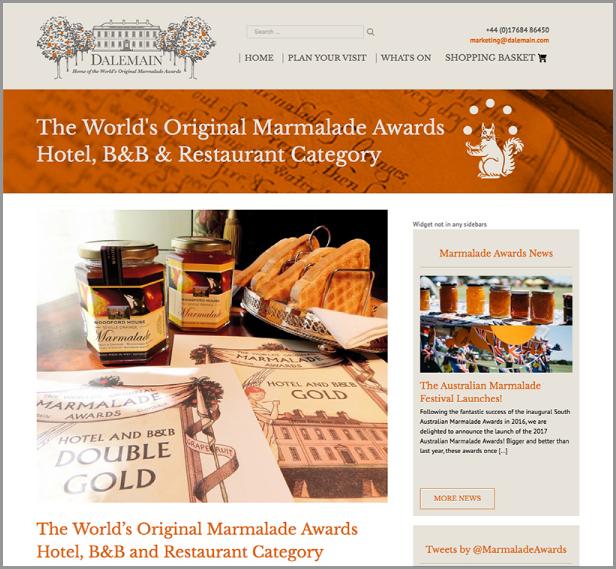 We are delighted that Woodford House Marmalade appears on the Dalemain website:
To visit the B&B, Hotel Awards section of the Dalemain World's Original Marmalade Awards website click here