To see larger Ordnance Survey location maps click here
If you are using a sat nav or the RAC or AA route planners plan your route to take our postcode TA4 4HR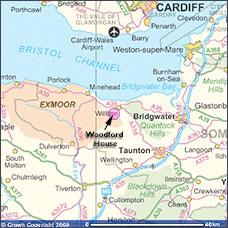 www.woodfordhouse.com | Telephone: 01984 641621 | email: anna@woodfordhouse.com
How To Find Woodford House
Directions from the M5 Junction 23 for Bridgewater (from Midlands and M4).
Best to come off at Junction 23 onto the A38 to Bridgewater as this avoids Taunton. At Bridgewater follow A39 to Minehead which will take you into Williton.
At the mini roundabout take the Minehead road (now A39).
Drive out of Williton for approx 1 mile and you will come to a large roundabout. Take the first exit signed Raleighs Cross, Monksilver (does not show Woodford).
Drive for approx 1 mile and come to small crossroads. Turn left - signed to Monksilver (B3188). Drive for half a mile and go through hamlet of Yarde.
After another half a mile along our valley arrive in the hamlet of Woodford.
Be careful not to miss Woodford House on the right hand side.
You can pull in near the gray door in the wall - nearest place to unload - or drive to the end of our garden wall and pull into the drive which is at the end of our garden.







Woodford House, Woodford, Williton, Somerset TA4 4HR | © Anna Thomas 2009-2019